8 Films and TV Shows for Your Dark-Skinned Daughter
Black girls are scarcely represented in the media, and on the rare occasion that we are featured in film or television, it is to play the stereotypical role of the angry or sassy black girl. However, we deserve complex representation of what it feels like to be a black girl in today's world. Here are 8 films and tv shows with solid portrayals of black women:
Moesha
Moesha follows the life of Moesha Denise Mitchell, a high school student navigating life with her middle-class family in Los Angeles. Young dark-skinned girls will get to see themselves on the screen and recognize parts of themselves in the protagonist, Moesha, played by singer Brandy Norwood. Although the show is more than 20 years old, there are still many relevant topics that young black girls will be able to relate to. Moesha delves into common real-life issues like teenage pregnancy, drug abuse, racial conflict and the death of a parent.
Awkward Black Girl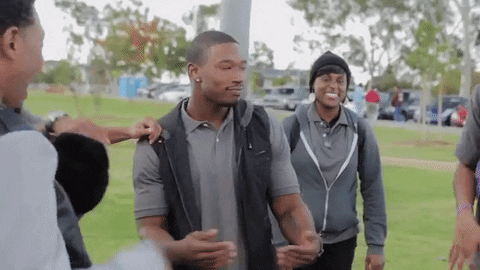 You've probably already heard of the hilariously relatable web series, The Misadventures of Awkward Black Girl. The comedy webseries by Issa Rae follows an awkward Black girl named "J", an employee at a company called Gutbuster. The series is based on J's interactions with her Gutbuster co-workers and love interests, D, White Jay and Fred. There are some real laugh-out-loud moments as the show makes funny, observational commentary on race and the struggles of dating, as a black woman. J's first-person voice is extremely relatable and perfect for preteens and teenaged black girls who need a little reassurance that it's okay to be awkward. However, at times the content is mature, and there is quite a bit of profanity, so the web series is best for teens and older.
Queen of Katwe
Finally, we have a mainstream black film that is not entirely centered around slavery, poverty or war and conflict zones. Instead, this inspirational, biographical film tells the true story of Phiona Mutesi, a Ugandan girl living in a slum in Katwe, who becomes a master of the game Chess after winning the World Chess Olympiads. The cast is mostly black, with young actress Madina Nalwanga who plays Phiona, Oscar-winning actress Lupita Nyong'o as Phiona's mother, and David Oyelowo as the Phiona's encouraging coach. This film is a beautiful reminder that black girls can be smart too.
Because the 2-hour film portrays the extreme poverty in Uganda in an especially explicit manner, it may best be suited for an audience of preteens and up (age 12 and up).
Southside With You
This romantic film is perfect for your older daughter. For those in need of a rom-com with a dark-skinned black female lead, Southside With You is the perfect choice. Not only does the movie give insight into Barack and Michelle Obama's early romance, but it refreshingly features Michelle Obama, a dark-skinned woman (played by Tika Sumpter), as the highly desirable subject of romantic interest—a rare feat in the media.
Akeelah and the Bee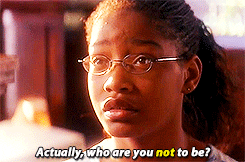 Akeelah and the Bee is an inspirational movie about 11-year-old Akeelah Anderson, who happens to be a spelling whiz from South Los Angeles. On the way to the finals of the National Spelling Bee, Akeelah has to overcome many hardships, including her mother's disapproval of her "silly" afterschool hobbies like competing in spelling bees as well as the taunting from her peers. Nowadays media pushes the idea that fame and beauty are the pinnacle of success, so it is especially nice to see a films promote intellectuality and aptitude as ideals worth aspiring towards instead.
The Gabby Douglas Story
Gabby Douglas became a household name after her successful run in women's gymnastics at the 2012 London Olympic Games, where she won the all-around gold medal as well as the team gold medal. Her success story is particularly uplifting, since women's gymnastics is not a sport often associated with black, female athletes. The Gabby Douglas Story gives a glimpse into the discipline required to get to the level of professional athlete, and shows how difficult gymnastics is compared to other sports. The Gabby Douglas Story reminds us that black girls can be both hard-working and graceful.
Honorable Mention: Seventh Grade
Seventh Grade is a part of a series called #ShortFilmSundays on Issa Rae's Youtube channel. The eleven-minute video is a short coming-of-age tale about Patrice, a young black girl navigating the social dynamics of the seventh grade. It also touches on relevant adolescent issues including the ill-effects of rumours, low self-esteem, peer pressure and bullying. The story ends on a positive tone though, with our protagonist Patrice placing her own reputation on the line, to help quell nasty rumours about her best friend, Laura.
Honorable Mention: A Different Tree
This short film is only fifteen-minutes long, but it's a real tear jerker. A Different Tree gives us a glimpse into eight-year-old Pearl (played by Morgan Ashley), as she attempts to build a relationship with her father, after her teacher assigns her class a project to discover and document their family trees. A Different Tree is also a part of the series, #ShortFilmSundays on Issa Rae's Youtube channel.
Grace – "While some have described her as overly opinionated, Grace much prefers the terms headstrong and passionate. She is a voracious reader, a dog-lover and a self-professed pop culture junkie. Her other hobbies include watching sappy romantic comedies, consuming too many strawberry-filled doughnuts and people-watching. Grace currently attends university, where she is working towards a Bachelor of Arts degree in English and Pre-Law."